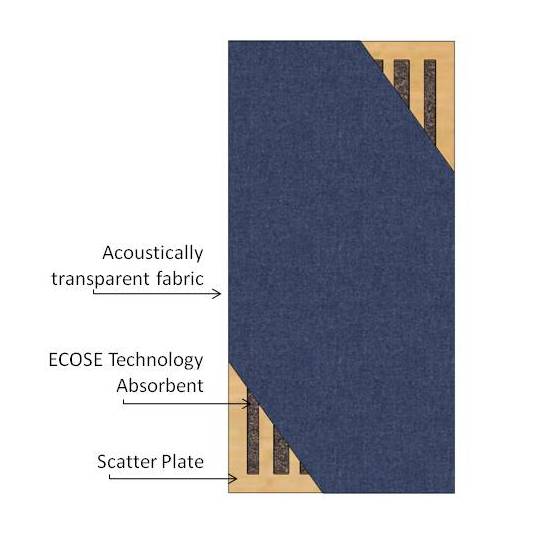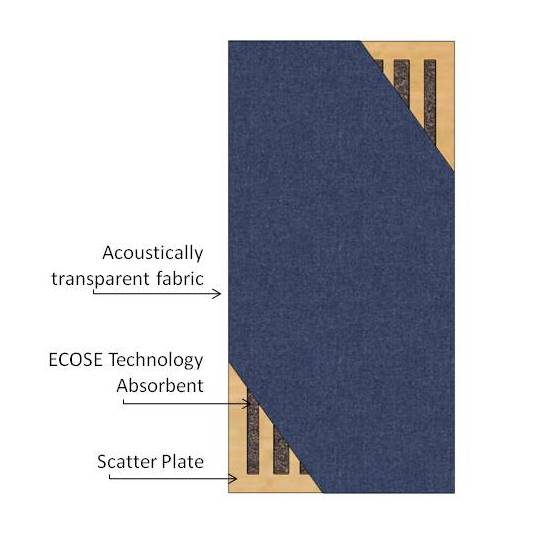 THE SCATTER PLATE ADDS BUILT-IN SCATTERING TO YOUR PANELS
GIK Acoustics is proud to offer the built-in Scatter Plate option – a wooden plate crafted with a mathematical sequence of slots that adds one-dimensional scattering / diffusion. The Scatter Plate is built-in between the fabric and the absorption material on GIK's 242 Acoustic Panel, 244 Bass Trap, Monster Bass Trap, Tri-Trap or ArtPanel. The Scatter Plate adds roughly 6 pounds to the overall weight.
The concept of the Scatter Plate follows that of professionally designed control rooms and tracking rooms which utilize wooden slats along the walls in front of broadband absorption to give an even balance of absorption, diffusion, and scattering. Scattering high frequencies with the use of wood slats, in a mathematical sequence allows you to achieve an even decay time from low to high frequencies, while providing you the necessary space for absorption to flatten the frequency response.
GIK Acoustics' broadband bass traps and acoustic panels offer great performance with an attractive price, and when coupled with diffusion and scattering can give your room a completely balanced sound without over-dampening high frequencies. The GIK Acoustics Scatter Plate sequence prevents periodicity, while giving great scattering from 2.5 kHz up to and above 10 kHz.
Click HERE to view the product video.
Having a Scatter Plate built into any of our acoustic panels or bass traps is easy.
Select the products you wish to order and add them to your cart.
Select the number of Scatter Plates you want and which product you want them built into (242 Acoustic Panel, 244 Bass Trap, Monster Bass Trap, Tri-Trap or ArtPanel) and add to your cart.
GIK Acoustics will construct your panels with the Scatter Plate built-in