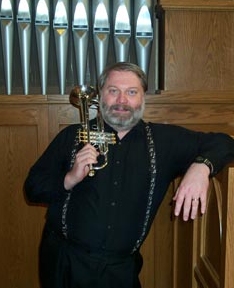 Dr. Dennis Herrick is Professor of Music at Huntingdon College in Montgomery, AL, and is Principal Trumpet with the Montgomery Symphony Orchestra. He recently used GIK Acoustics products in the listening room at his home. He shared with us photos showing the room with Tri-traps, Bass Traps on stands (at first reflection points) and 242 Acoustic Panels on the ceiling.
Dr. Dennis Herrick grew up in Rochester, N.Y., and attended the Eastman School of Music. Following graduation, he spent four years in Air Force Bands: two in Biloxi, Miss., and two in Tokyo, Japan, where he met his future wife (originally from Texas). After leaving the Air Force, they spent two more years in Tokyo teaching at a mission school, then four years of graduate school, eight years teaching in Indiana (plus another year in Japan), and Dr. Herrick arrived at Huntingdon College in 1988. He is currently principal trumpet in the Montgomery Symphony. His free time is usually spent with computers or in music.
Welcome to GIK Acoustics!
With thousands of acoustic panels, bass traps, and diffusors installed around the world and with locations in the U.S. and Europe, it is clear that GIK Acoustics is the #1 choice for recording studios, listening rooms, home theaters, restaurants, churches, and live auditoriums.
GIK Acoustics not only provide the largest selection of high quality, eco-friendly
products at affordable prices, but provide clients with a professional design and support staff to help you achieve a quality acoustic space.