Gregg Fine has been producing music for television, commercials and records for the past 20 years. His Hidden Tiger Music is a boutique commercial music production company focused on creating compelling music for advertising. In addition, Gregg is a multi-instrumentalist, having toured many countries with artists like Harry Belafonte and Richard Bona. Gregg is also the author of "Composing for Commercials", an in-depth look at the world of music for advertising, available from macProVideo.
Gregg has incorporated over a dozen GIK Acoustics Bass Traps in his studio giving the space the best sound and clarity as he creates compelling music for advertising. "GIK bass traps are one of the most important pieces of gear in my studio since they give me the confidence to trust what I'm hearing from my monitors. This in turn makes mixing easier, more fun, and helps me deliver a better product to my clients."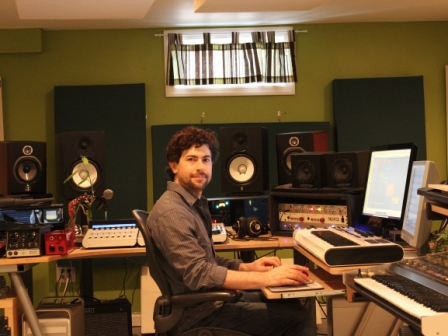 Gregg's Bio:
A native of South Florida, Gregg soaked up the influence of the Miami music scene as a youth and quickly progressed from devout music lover to professional jazz guitarist. In college, Gregg studied with Charlie Haden, Pat Metheny, Roscoe Mitchell, and Leo Smith while at the University of Miami and CalArts. He eventually landed in New York City where he worked with Jazz titans like Jim Hall, George Garzone, Richie Beirach, and Arnie Lawrence.
An accomplished and versatile guitarist, Gregg has performed throughout Europe, Canada, South America, Africa, the Caribbean and the United States with artists such as Harry Belafonte, Richard Bona, Les Nubians and Hugh Masekela. He began performing professionally by age 14 and, by age 20, was the recipient of numerous awards including the Clifford Brown/Stan Getz Fellowship, the East Coast Jazz Festival Award, and the National Foundation for Advancement in the Art's "Young Talent Award".
In 2000, Gregg decided to focus on recording work and founded Onda Productions with two partners, where he became Head of Music Production. The company created commercials for many of the major advertising agencies in Manhattan including JWT, Ogilvy and Mather, DDB, BBDO, Deutsch, Grey, and Chiat Day. They produced original music for brands such as Old Navy, Pantene, Puma, Ford, Honda, Covergirl, Cotton Inc., Joe Boxer, Mennen and many others. As their business grew they extended their creative reach to compose for video games, fashion shows, films, records, and websites. In the record world, Gregg has worked with artists such as Esthero, De La Soul, Manu Dibango, and the Isley Brothers. Several of his tracks can be heard on labels such as Naked Music, Sony, Astralwerks, Hed Kandi, Putumayo, Liquid Sky, and Wave.
Gregg left Onda to create his own commercial music production company, Hidden Tiger Music Inc. He currently creates spots for brands such as Mercedes,Calvin Klein Lipton, YSL, Nescafe, McDonalds, and Ford. He often works in collaboration with New York's first-class music companies such as Face the Music, JSM, Volition, Yessian, The Lodge, Man Made Music, Pulse, and Mambo Music.
Gregg's music can also be heard on television shows, major motion pictures, and websites including ABC's "The Chew" and "The Glass House", Anthony Bourdain's "No Reservations", "Masters of Reception", Zoolander, Rick, "Accepted", MTV's Gamekillers and "Jones New York." As an educator, Gregg is the author of six educational courses including "Composing for Commercials" and "Music Theory: Harmony, Melody, Rhythm, and Song Form" available from MacProVideo.