School Acoustics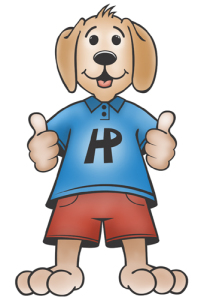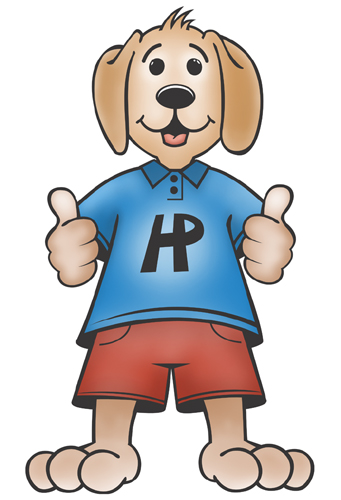 The High Point Elementary Parent-Teacher Association contacted us in the spring of 2013 to tame the noise in the school cafeteria and provide an acoustical solution. The student population of approximately 800 students in Grades PreK through 5 had a problem. The issue was rising decibel levels as students filled the cafeteria during lunch breaks. We've all been in school cafeterias or gyms and know they can get loud – in this case 85 decibels. And unruly students weren't to blame. The culprit was typical of school cafeterias – cinder block walls, tile floors, and high ceilings in a large, open room.
The noise was such an issue that it caused stress for students, parents and staff. In fact, some students refused to eat in the cafeteria because of the noise levels. Fortunately a member of the PTA had previous radio experience and knew a little about room treatments, so they called GIK Acoustics. Since High Point Elementary is located in Sandy Springs, GA, just outside the city limits of Atlanta; we were able to pay a visit and see the space for ourselves.
To tame the hard, reflective surfaces, GIK Acoustics created 40 custom 4′ and 5′ Spot Panels to place on the walls and 120 Spot Panels to replace tiles in the suspended ceiling.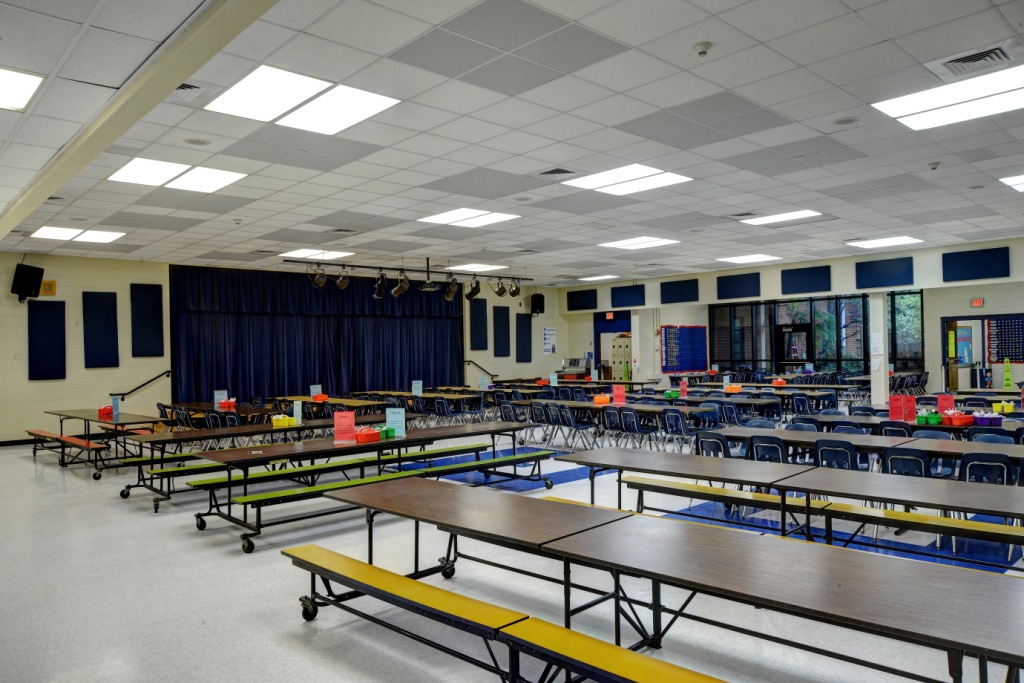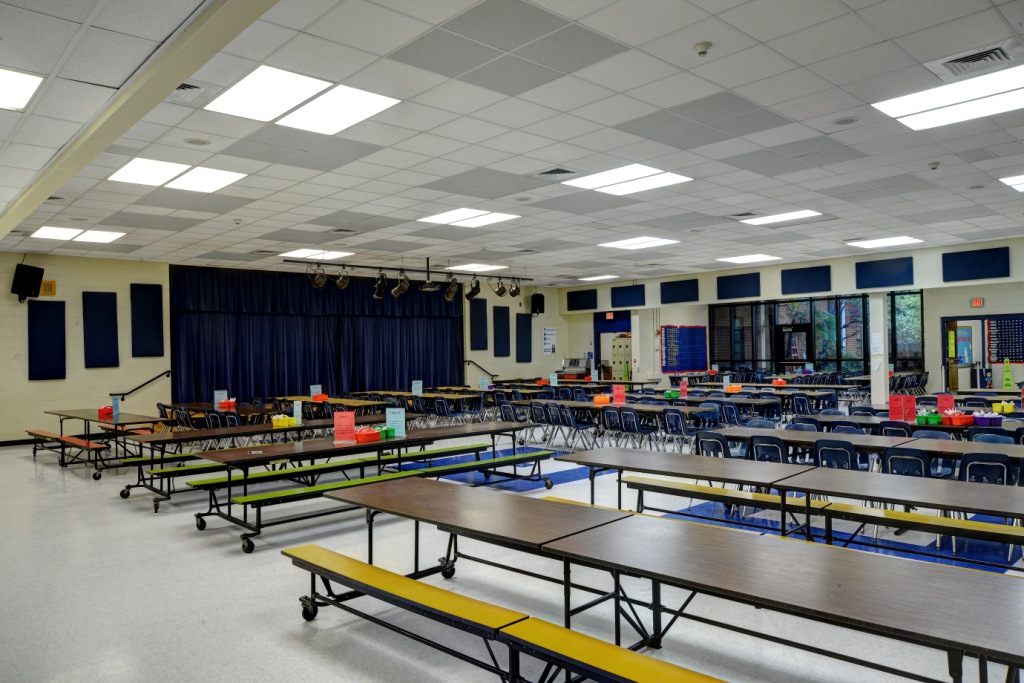 The panels blend in with the school's colors and the existing stage curtain and they virtually disappear in the suspended ceiling. Most importantly, however, the treatment lowered the noise level and made activity in the cafeteria more enjoyable for students and staff.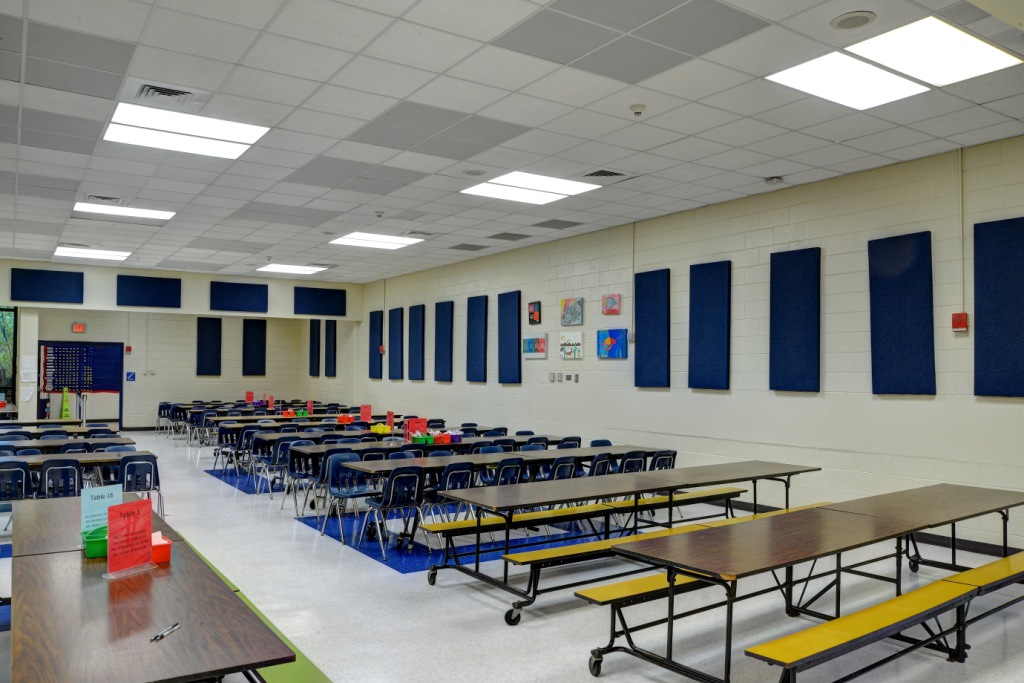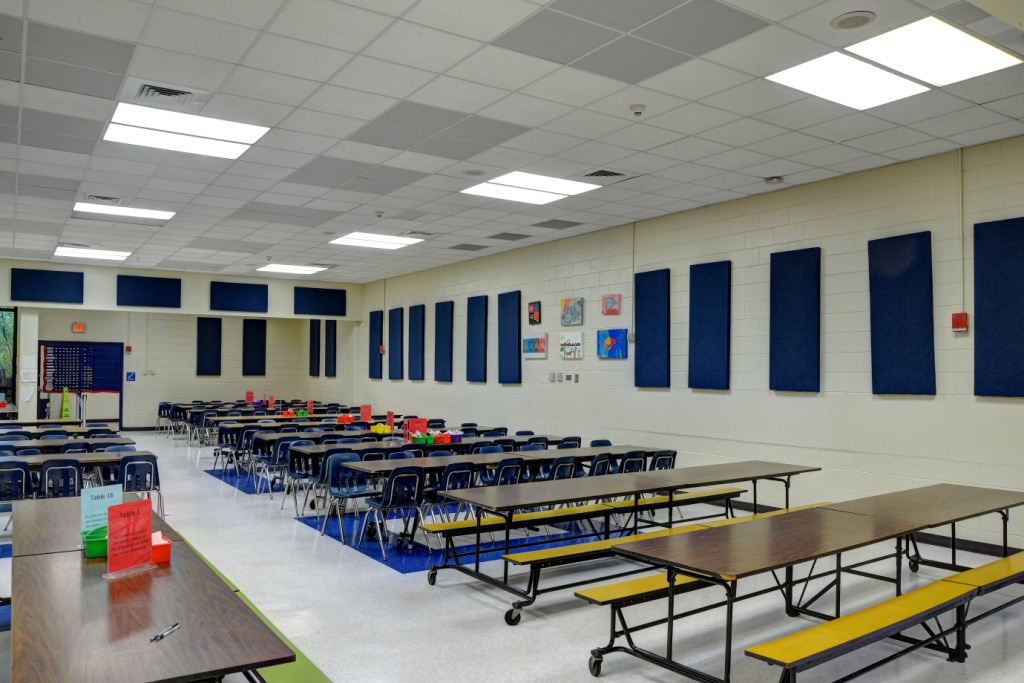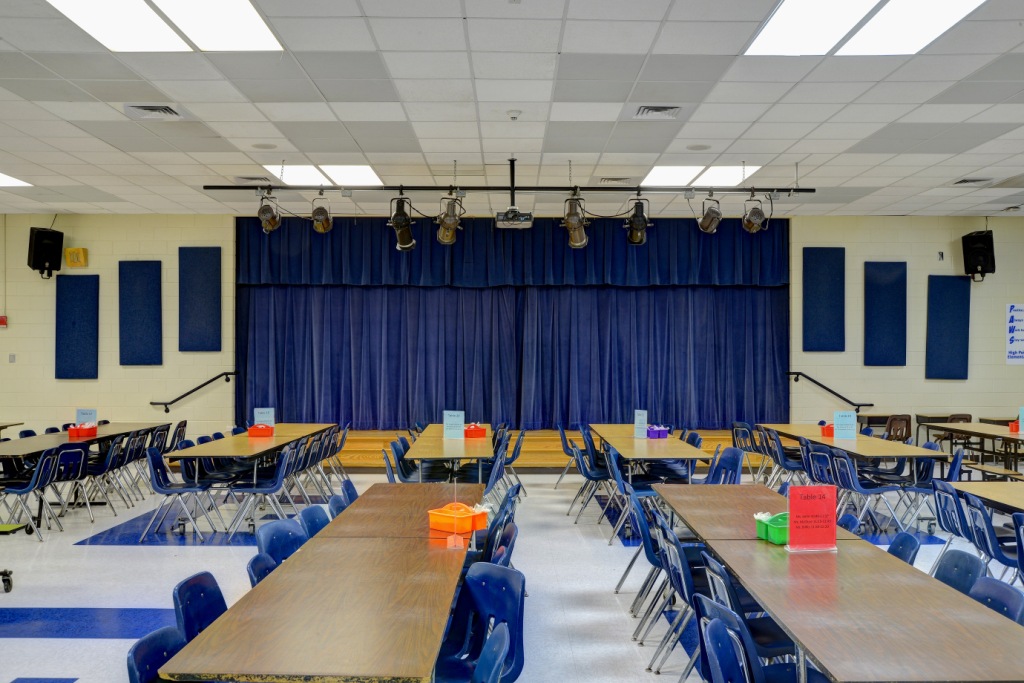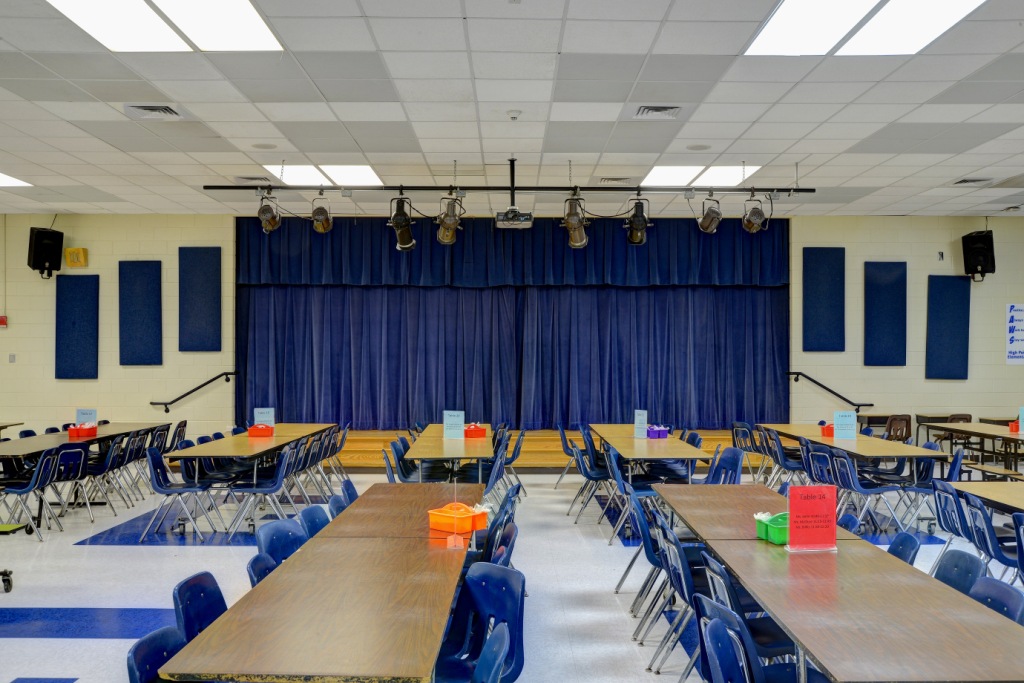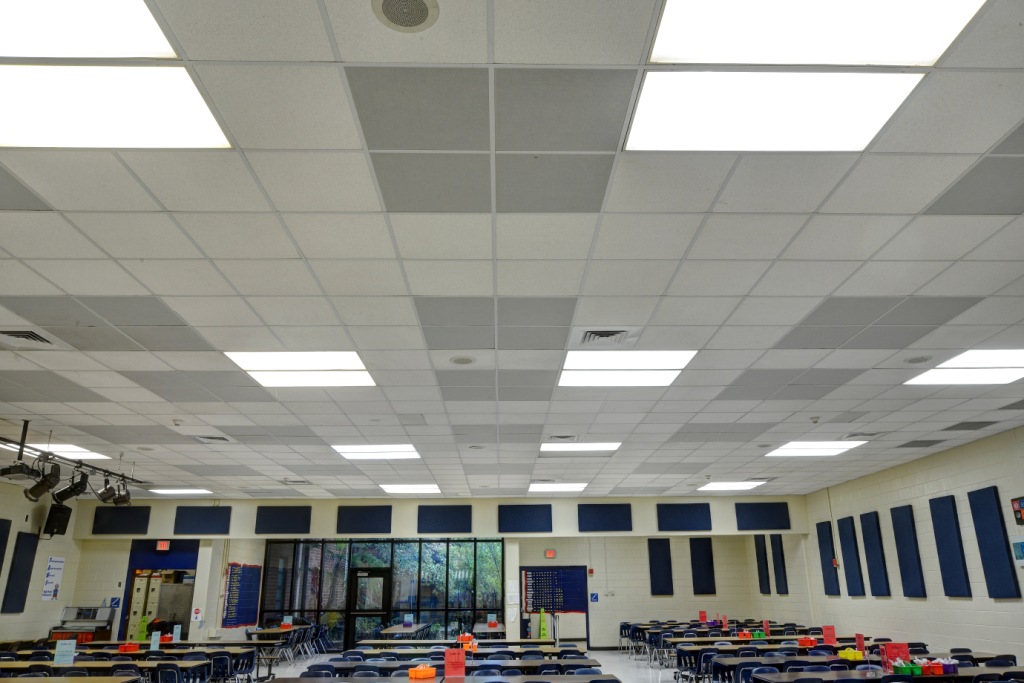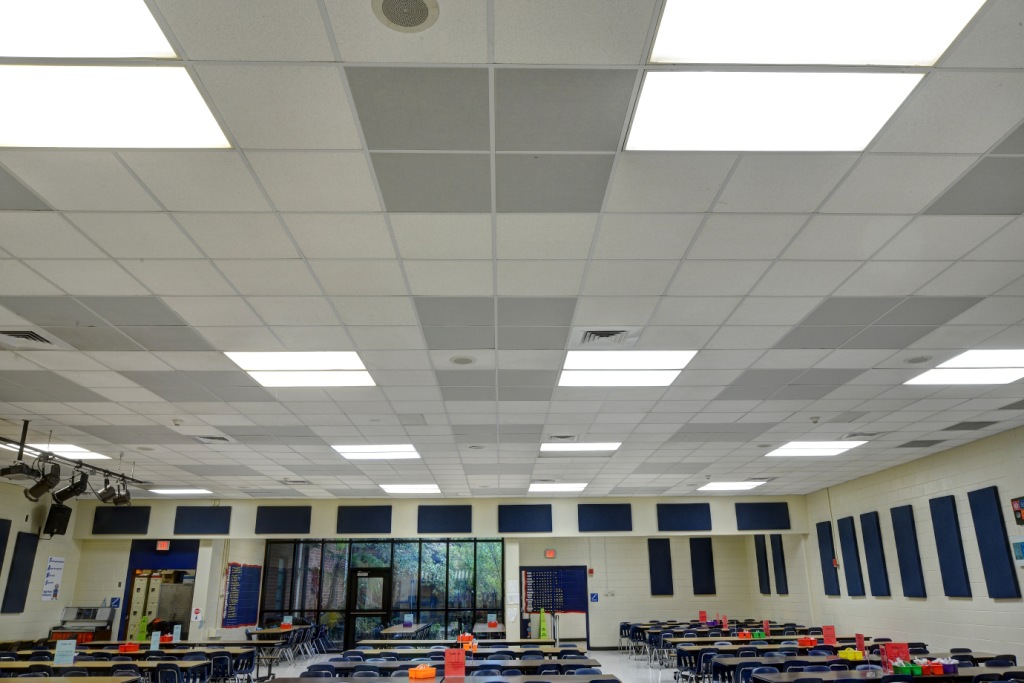 We received this awesome Thank You card which reads
"Dear Glenn, Shelly and the GIK Acoustics Staff,
We are over a month into our school year and continue to be dazzled by the sound panels. From the teachers to the students to the custodians, everyone comments on the difference they have made during lunch. My own daughters told me about a week ago (and not for the first time) that they could actually have conversations now without yelling. Not only have they helped absorb sound, but they look great too! People were thrilled when they walked in at the beginning of the year by how fresh and current everything looked.
Finally and perhaps most importantly, you all were a pleasure to work with! Thank you for the patience you showed us and the interest you took in bettering our school. We appreciate partnerships like yours more than you will ever know!!
With Gratitude,
[name redacted] & the High Point PTA"
And we received this feedback from Brittany Charron: "I am a High Point Elementary parent who has experienced first-hand the difference made by GIK Acoustics. The GIK staff is a lovely group of knowledgeable and caring individuals who truly get to know the client before making recommendations. As a result of their expertise, we have a Cafeteria that not only performs well during lunch but also during performances and large group presentations. We can truly hear the difference and that makes everyone – students, faculty and parents, very happy! Not only that, the panels are good looking and really spruced up the existing area. We are delighted we chose GIK Acoustics to provide a solution that is going to benefit our school for years to come!"