JustMastering.com started operations in January 2012 in Ontario, Canada.  Mastering engineer Rob Stewart's mission is to help clients prepare their music for distribution and broadcast by providing high quality song mastering services to fit almost any budget.  JustMastering.com has a track record of providing quality service and intense customer focus as well as a growing list of happy clients.
GIK Acoustics recently helped Rob with treatments for the JustMastering.com studio.  Rob says,

I have had the treatments up for quite some time but only recently updated my site with pictures etc. Your product looks and sounds fantastic!  The panels you recommended for me will serve me well for a long time. They are an excellent investment, and I couldn't be happier!
The look, quality, and performance of your company's panels are superb. Right down to the default fabric that you use, and the extra layer of inner fabric as well. If someone asked me…  I would send them to GIK hands down. Not only for the reasons above, but also add the fact that you can do custom tuned traps to within a few Hz, and Bryan's help is an absolutely a huge benefit. Clearly you have a well-thought-out product line that allows the client to start at one level, and "grow in" to the other products that are available, depending on their needs.
Once again, I couldn't be happier that I chose to surround myself (literally!) with GIK panels in my listening space!"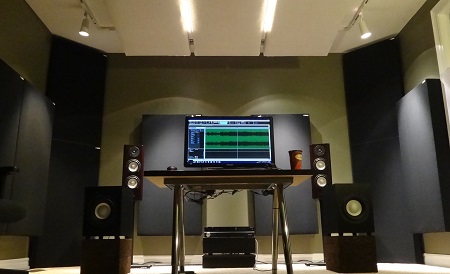 On-line Music and Audio Mastering Services
Mission:
To help our clients to sound their best, by providing superior audio mastering services.
Description:
We offer music mastering services to independent musicians, bands and record companies. We understand how much time and effort goes into making music. Music mastering is a necessary step to ensure that each song sounds clear and balanced on the widest variety of playback systems. Music mastering brings out the depth, warmth and energy in your mixes which is what makes music fun to listen to, while reducing aspects of your mix that listeners might not enjoy so much, such as noises, harshness or loud transients. We take customer service very seriously. Providing you with regular communication and reliable service is a top priority for us.We believe in offering free articles, product reviews and advice to our clients, because we want your music to sound as good as it possibly can.