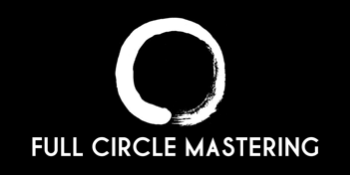 Full Circle Mastering is an independent mastering studio located in Asheville, NC. Founded by engineer and musician Mark Trewella, Full Circle provides professional audio mastering services for a variety of artists.
When GIK Acoustics first met Mark in 2012, Full Circle Mastering was located in his hometown of Philadelphia, PA. In 2018 he decided to pull up roots and relocate to the beautiful Blue Ridge Mountains of North Carolina. But as anyone who's relocated can tell you, moving into a new space presents new opportunities as well as new issues. So Mark turned again to GIK Acoustics to help with the matter of room acoustics.
Mark says, "The relocation of my mastering studio from Philadelphia, PA to Asheville, NC, allotted me the perfect opportunity to rethink my acoustical treatment. In setting up the new studio I took advantage of many of GIK's more recent product offerings. By utilizing a combination of full range, range limited, and scatter plate faced Soffit, Monster, and 244 Bass Traps, I was able to dial in the room in a very refined way that well exceeding my expectations!"
We are very honored to have Full Circle Mastering as a client and we wish Mark every success!
Full Circle Mastering is founded by Mark Trewella.
Mark's Bio:
"For as long as I can remember I have been absolutely fascinated by sound and music. At the age of 10 my musical journey began with the guitar. As the years passed I experimented with multi-track recording, electronic instruments and computers as a means of capturing my creative ideas. This interest and desire to explore sound drove me to attend audio school in Vancouver, Canada. Shortly after graduating I moved to New York City. Mastering always greatly intrigued me. The feeling I had upon first listening to music in a professional mastering studio is something I'll never forget. This led to an apprenticeship at Scott Hull Mastering where I was able to learn from some of the most skilled mastering engineers in the industry.
Full Circle Mastering opened in 2009 in Philadelphia, PA. There I operated the studio for 8 and a half wonderful and productive years, however after 15 years of city-living a change of pace was in order for this nature-lover. In 2018 I relocated the studio to Black Mountain, NC, a small and vibrant mountain town just 20 minutes outside of Asheville. Here I continue to offer my ear and expertise to others who share the same intense passion for music that I do."
---