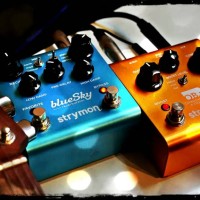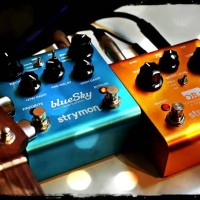 Strymon – makers of boutique music electronics and effects pedals headquartered in Westlake Village, CA – recently had their first Strymon Social where they invited customers, fans and musicians to their shop to discuss and demonstrate their pedals, talk about physics, technology, and more.
Before the event, Strymon called on GIK Acoustics to help with the boominess of their shop.  We complied with 18 boxes of our 242 Acoustic Panels (that's 54 panels) to hang in their warehouse-like space.  The results were spot-on says Director of Marketing Ethan Tufts, "The panels went up pretty quickly and we've been very happy with the results."
Congratulations to all the guys at Strymon for a successful event!
Strymon: We want you to be inspired to create amazing music.
History of Strymon:
Strymon is a creator and US manufacturer of high-end music electronics, and a division of Damage Control Engineering. With a mission of pushing the limits of technology in music and building products with no compromises, their products have earned critical acclaim and have become favorites among musicians across the globe.
Visit their website at strymon.net