---
A Studio Is A Place
I was on my way to a remote recording gig recently, and I found myself marveling at how little gear I needed to bring with me. I was recording a singer/guitarist, and we planned to do all the songs live in one take with no overdubs. My favorite technique for this is to use three microphones, two to get a nice wide stereo recording of the guitar, leaving plenty of space up the middle for the vocal mic. If available, I'll also record a DI of the acoustic guitar to give me more flexibility at mixdown, usually to add more low end if it's a soloist recording. So I brought three of my favorite mics, cables and stands for them, my USB interface with 4 mic inputs, my laptop, and some portable acoustic panels to create a nice place for recording. Everything except the mic stands and the acoustic panels fit into my laptop bag. This is quite a departure from how it was when I first started doing real studio work in the 90s, on anything better than a four-track cassette recorder.
Of course, the concept of portable recording is not new; in the late 1940s and early 1950s, Les Paul famously brought his "sound-on-sound" tape machine with him on the road, so he and Mary Ford could make recordings in their hotel rooms on the road. But certainly, today's technology is both more powerful and more portable than at any time in history.
As amazing as all this is, the stuff in my laptop bag isn't a studio. It's a bunch of recording equipment. As I said in "Can't I Just Mix With Headphones," a studio is a place with a specific set of characteristics: we should be able to make recordings without external sounds bleeding into the microphones or disturbing other people, and we should have an accurate listening environment in terms of both frequency response and imaging, so we can accurately assess what we are hearing and make good mix decisions. And while a room that is acoustically designed from the beginning to sound great is ideal, there is still a lot we can do, even with just a few portable panels, to improve the sound of our recordings in untreated rooms.
A Room Of One's Own?
On the cusp of the Great Depression, Virginia Woolf wrote in A Room Of One's Own that a place of solitude, free of distraction, is essential for creativity to flourish. While she had the feminist struggle of the time in mind, and not audio recording technology in 2016, I think her maxim applies to all creative people and pursuits. Certainly, having even a small space dedicated to audio production can greatly improve the quality of our work. Acoustic treatment is a big part of creating such a space, because this is what truly makes a difference in both the accuracy of monitoring and the quality of microphone recordings in the first place. Since the space is dedicated to audio work, we can arrange things to optimize both sound and the creative flow. Additionally, we can prioritize acoustic treatment, placing important panels at essential locations to maximally serve the audio we create.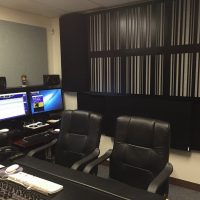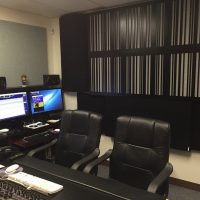 This is a great option for those with the luxury of an extra room, and it explains the boon of the project studio over the past 20 years. The technology has gotten small and affordable enough that people can make a project studio in their bedrooms.
Project Studios remain GIK Acoustics' bread-and-butter today. We have treated thousands of them, and enabled people to improve their sound quality and workflows with our wide-range of treatment options. As always, contact us if you'd like assistance designing the acoustic treatment for your project studio, or simply educate yourself with all the resources on our webpage and design your own strategy.
But even if you don't have permanent access to a spare room for a fully-treated project studio, GIK Acoustics can still help.
Portable Acoustics: Creating A Place On The Fly
Even on remote recording gigs, we can still do a lot to create a place. At the beginning of this article I mentioned that I brought some acoustic panels with me to a recent session. I do this all the time on remote gigs, because it can really help improve the recordings. My favorite panels to bring these days is GIK's new Portable Isolation Booth, because they fold up small enough to fit in a car, and offer quite a lot of surface area when set up. I have two of them which gives me a ton of flexibility.
For tracking, I can use them in a variety of ways. I can set them up both together, creating a large "booth" as shown here: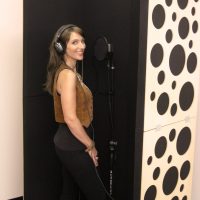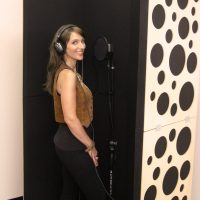 If I'm just recording one performer this is my preferred option because it works so well. There is space between the 2 panels to put the boom arm of the mic stand for the mic, giving the performer plenty of room inside the booth. And there is so much surface area (each PIB is about 23 square feet, so 2 together gives about 46!) that I have much greater control over room ambience. In most cases, I will keep the panels in as tight to the performer as possible to "dry" up the recording, giving me the purest, least colored sound as a starting point during the mix. If the room tone is interesting, then sometimes I will put up a room mic, outside the PIB area, to capture that as well, giving me more options during the mix. This way I can control exactly how much of the room ambience I want to put in the mix. I can also control the tonality of the room ambience, modifying or enhancing it as needed. In most cases, if I use the recorded room tone, it gets heavily processed during the mix, certainly with EQ (usually both a hi- and lo-pass filter, with some midrange adjustments also), sometimes with compression, and sometimes I feed this source track through another reverb plugin to fill the sound out a bit more. This approach opens up so many options to shape the mix, we can do whatever serves the song, which is what it's all about, right?
Multiple Performers
If there are two performers, then I can give each one of them their own smaller area with one PIB, as shown here: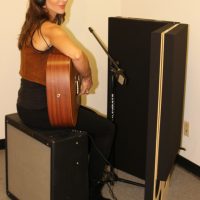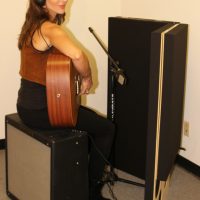 For guitar recordings, I usually keep the booth folded over, set up around the player (as shown above) for acoustic guitar, or set up around the amplifier for electric guitar. Folding the PIB creates a thicker panel, that performs better at bass frequencies, and there is still plenty of absorption surface area lower to the ground at the height of the instrument. If the musician plays standing up then I can easily unfold the PIB for maximal height and it works great.
The PIBs by themselves will also improve isolation between the two performers, and combined with intelligent mic technique, arranging everything so the null point of one performer's mic is aimed at the other performer, can create pretty astounding isolation.
Then, if you are listening back with speakers on the site, you can use the PIBs to the left & right of your setup to absorb early reflections and bring your monitoring sound into focus.
For more detail about the benefits of using the PIB to create better space in your recordings, take a look at the recent video and article that goes into more detail about mic technique and room acoustics:
Other Options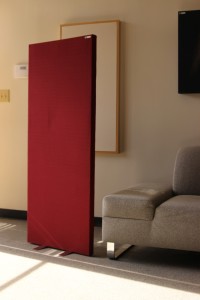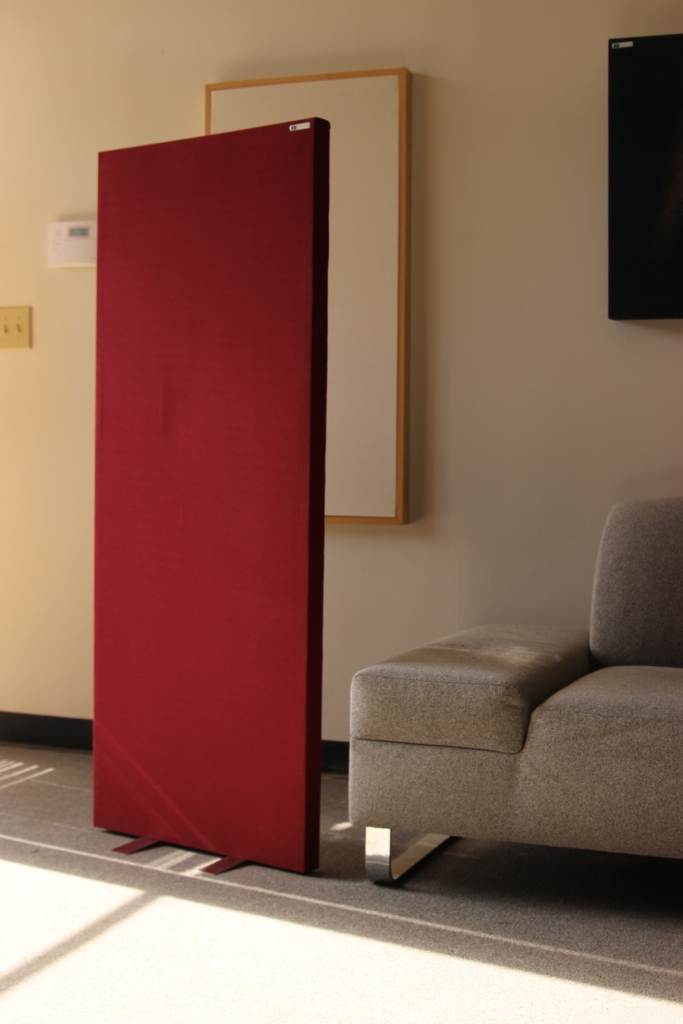 GIK Acoustics has several other options than the PIB. Our Screen Panel is thinner when folded, but does not collapse vertically so it is always 6' tall. It might be a good alternative for some people, since it is shaped differently and can be used in almost exactly the same way as the PIB. Our FreeStand Acoustic Panel and FreeStand Bass Trap are probably not as portable as the PIB or Screen Panel, but are fantastic options for home recording setups where all treatment needs to be put away when not in use. Each FreeStand panel is 5' tall. You can use the thicker panels in corners as bass traps, and the thinner panels work well with both the recording and reflection point strategies listed above.
Like many recordists, I'm a big fan of anything that maximizes the vibe of a recording session. These are almost always related to questions of space; certainly, the sound has to be there, but musicians often respond positively to anything that improves engagement of the senses. Scented candles or incense (known as "stankpurty" where I'm from), custom lighting (dimmers, candles), throw rugs, and of course that studio icon that is the lava lamp, are all common ways producers and engineers create a vibe for a recording session. Anything like this that creates space conducive to the creative flow, and engages the senses, often results in better recordings. So when you are setting up even a temporary recording space, don't forget the most important of our senses in a recording session – use acoustic treatment whenever possible.
When In Doubt, Ask For Help
As always, we are happy to help you maximize the sonic potential of your room and your recordings with our many years of experience and patented GIK Acoustic treatments. Contact us for free acoustical advice.