Technical Specs
Overview
Transform your recording and listening space with the GIK Acoustics B4 Bass Trap Panels!
Our 4″ panels are designed to eliminate reflections, reverb and bass buildup in any size room. Whether you're in a mastering facility, a small project studio or a 2-channel listening space – our variable-sized B4 bass trap panels will help craft an acoustically superior sound environment for your audio needs.
The B4 panels are the perfect choice for a variety of settings. They transform your space wherever highest fidelity experience is demanded and allow your room to deliver the punchy bass and crystal clear trebles it was meant for.
It is also the perfect eco-friendly companion. Crafted with 100% recycled materials, the B4 contains none of the toxic formaldehyde or urea.
Specs
Rigid fiberglass provides twice the low-end absorption over similar foam-based products.
4″ thick acoustic panel frame filled with eco-friendly, fire-rated rigid fiberglass sound absorbing material, wrapped in acoustically transparent fabrics in over 20 color options.
Square/Narrow = 6lbs
Rectangle = 12lbs
1.20 (versus foam products where NRC = 0.4)
Square 24″x24″
Rectangle 24″x48″
Rectangle 24″x36″
Narrow 12″x48″
The B4 panel is easily mounted on a wall using a sawtooth picture hanger (included)
Can add custom art to create an ArtPanel
The B4 panel is an excellent option recording & project studios, mastering facilities as well as high end listening rooms.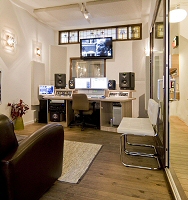 "GIK Acoustics products do a remarkable job at creating a great, early-reflection free sweet spot for the engineer and controlling bass. The panels and bass traps have turned an acoustically challenging room into a perfectly workable listening environment."