Product Description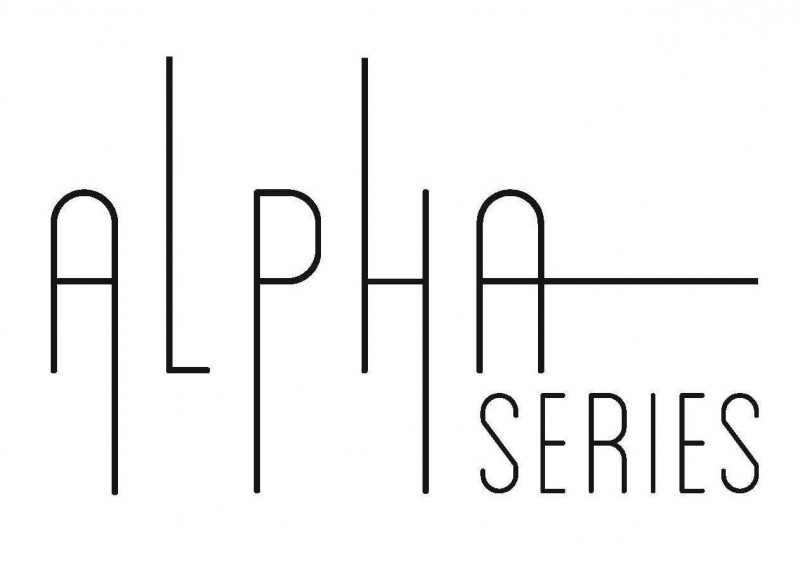 Alpha Series
The GIK Acoustics Alpha Series is changing the face of acoustic panels and bass traps by beautifully combining absorption with diffusion.
With the Alpha Series, customers can enhance any room both aesthetically and acoustically with superior quality, high-performing, stylish acoustic panels and bass traps.
4A Alpha Panel
The 4A Alpha Panel features an attractive plate crafted with your choice of one-dimensional or two-dimensional scattering / diffusion sequences. Behind the fabric is 4″ of rigid fiberglass – NOT FOAM – for true absorption. The rigid fiberglass core provides twice the low end absorption over similar foam-based products.
Available in three scattering options: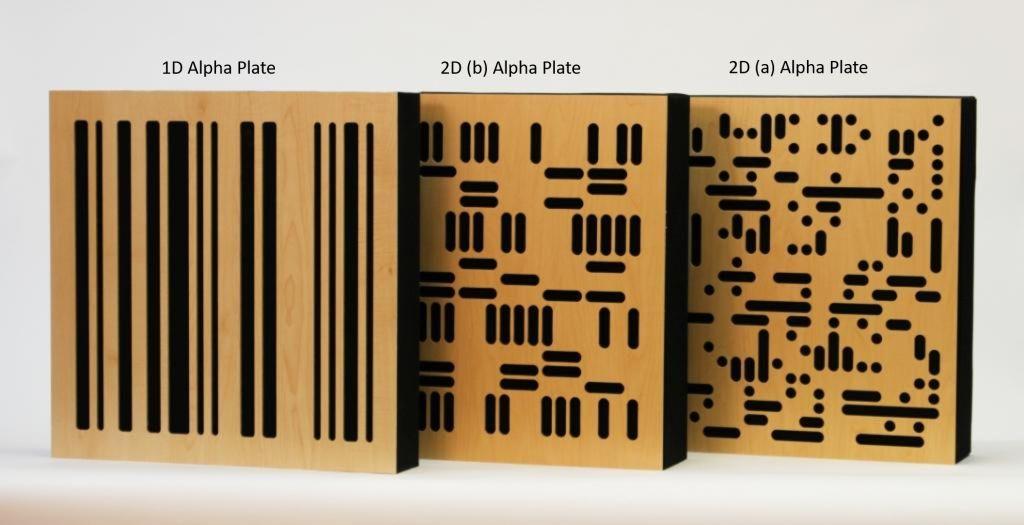 One-Dimensional – The 1D option uses a mathematical sequence in a column that extends the length of the panel. The vertical slats of the 1D allow sound energy to be scattered in a horizontal plane.
Two-Dimensional – The 2D options use a sequence of columns and rows with variable spacing that provides horizontal and vertical scattering of sound. Additional $20 each for Square panels and $30 each for Rectangle panels

2D (a) has a pattern of dots and dashes
2D (b) has a pattern of dashes
Both the one-dimensional and two-dimensional options start to diffuse at 1000Hz and are great for any kind of room and in any location in the room.
For advice on selecting diffusion patterns, check out our Acoustics & Audiogeekery blog post "Decoding Diffusion." If you're not sure which scattering option to choose, we are happy to help. Contact us for free acoustical advice.
Available in two standard sizes:
Square – 23″ x 23″ – sold 4 to a box to create your own grouping
Rectangle – 23″ x 45.5″ – sold in pairs with or without optional freestanding supports

OPTIONAL freestanding supports available on rectangular (23″ x 45.5″) Alpha Panel. When freestanding, the Alpha Panel can change the acoustics of a room by simply turning the panel to face front or back. Position the Alpha plate outward for diffusion or turn the fabric side outward for broadband absorption. Also allows for flexible placement in early reflection points or straddling corners as a bass trap.
Plate available in 5 attractive finishes:
4A ALPHA SERIES FEATURES:

4A Alpha Panel depth: 4″ sturdy wood frame with rigid fiberglass core
Square (23″ x 23″) Standard weight: 8 lbs
Rectangle (23″ x 45.5″) Standard weight: 15 lbs
NRC = 1.05 (versus foam products where NRC = 0.4)
Thin face plate has mathematical sequence of slots for spatial diffusion, but also allows low frequency waves to pass through to the fiberglass panel for low end absorption
Rigid fiberglass core provides twice the low end absorption over similar foam-based products
Easy to wall mount with sawtooth hanger (included). No glue or destructive adhesive when mounting
 

employs 

ECOSE® technology

 absorption material and is manufactured with LEED certified 

Columbia Forest Products

 (made in the USA) 

 formaldehyde-free technology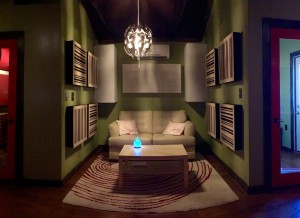 The 4A Alpha Panel is an attractive choice for a room where mid and high frequency chaos needs to be controlled but not removed. In a control room, the 4A Alpha Panel can be used on the front or back walls and rear sidewalls to keep the reverberation better mixed and the room lively. In home theater and two-channel audio rooms, the 4A Alpha Panel can be utilized on the rear sidewalls or behind dipole speakers to round off sharp reflections. The 4A Alpha Panel is also right at home anywhere in a tracking room or other large spaces, helping spread out the energy evenly across the whole room.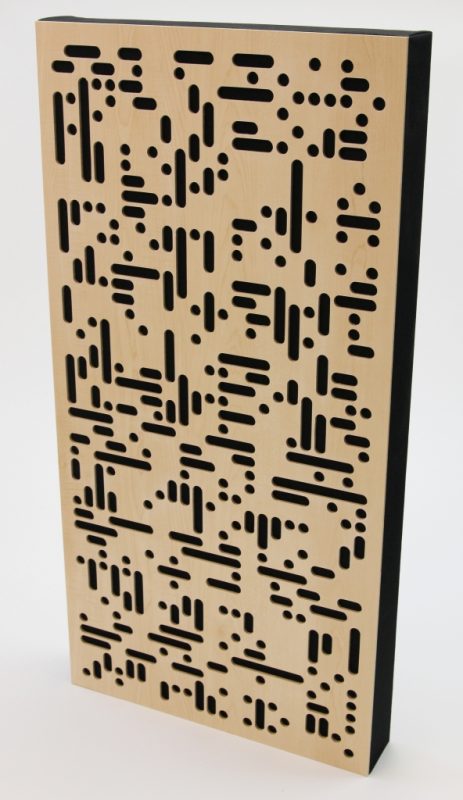 The 4A Alpha Panel is constructed as a 4″ wood-framed panel filled with rigid fiberglass absorption material (core made from 100% recycled materials, environmentally friendly without any formaldehyde or urea formaldehyde), wrapped in your choice of fabric, and finished with an attractive face which has a mathematical sequence for either one-dimensional scattering/diffusion or two-dimensional scattering/diffusion.
Scattering high frequencies with the use of slats in a mathematical sequence allows you to achieve an even decay time from low to high frequencies, while providing the necessary absorption to flatten the frequency response.

For more information on using diffusion, read our article "Diffusion is a Wonderful Tool" by Jeff Hedbeck.