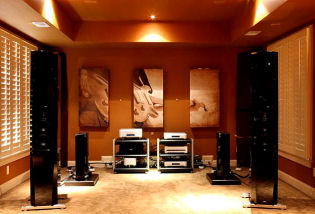 Professionally constructed with a thin 2" profile and a frame that is custom-sized to fit your artwork, our Art Acoustic Panels blend with existing décor making it the perfect option for restaurants, home theaters and recording studios. 

Click HERE to view the product video.  Click HERE for our Ordering Guide.
GIK Acoustics uses state-of-the art dye sublimation process to transfer an image onto acoustic art fabric which is then wrapped onto the panels. Dye sublimation is a printing process that uses heat to transfer dye between the solid and gas states without going through a liquid stage.
Advantages of dye-sublimation over other methods of textile printing:
Images are permanent and do not peel or fade.
Dye does not build up on the fabric.
Colors are extraordinarily brilliant due to the bonding of the dye to the transparent fibers of the synthetic fabric.
Truly continuous tones can be achieved that are equivalent to photographs, without the use special techniques such as half-screen printing.
The image can be printed all over the entire item, with no difficulty in printing all the way to the edges.
You can provide your own art or select from thousands of choices at istockphoto.com or Shutterstock.  You can have larger acoustic art panels or smaller acoustic art panels. It's your choice all the way! We can even arrange for custom shipping if you need especially large panels.  Click HERE for our Ordering Guide.
 – employs ECOSE® technology absorption material
With GIK Acoustics Art Acoustic Panels, your options are unlimited.  There are no problems, only solutions!
If you're ready for a one-of-a-kind work of acoustic art, contact our Lead Customer Service Tech Christina Stone. She'll review your needs and provide a custom quote.
orders@gikacoustics.com
Phone: (404) 492-8364
Europe: +44 (0) 20 7558 8976