GIK Acoustics ArtPanel
Please see our ORDERING GUIDE to help you create your own GIK Acoustics ArtPanel.
CONTACT US to get your order started!
orders@gikacoustics.com
Phone: (404) 492-8364
Following is basic pricing for most common sized ArtPanels.  GIK Acoustics can create ArtPanels up to 96″.
| | | | |
| --- | --- | --- | --- |
| width | height | depth | Price |
| 12″ | 24″ | 2″ | $129.00 |
| 24″ | 24″ | 2″ | $149.00 |
| 24″ | 48″ | 2″ | $199.00 |
| 24″ | 48″ | 3.5″ | $249.00 |
CONTACT US to get your order started!
orders@gikacoustics.com
Phone: (404) 492-8364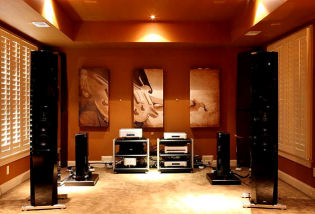 Professionally constructed with a thin 2" profile and a frame that is custom-sized to fit your artwork, the ArtPanel blends with existing décor making it the perfect option for restaurants, home theaters and recording studios. 

Click HERE to view the product video.  Click HERE for our Ordering Guide.
GIK Acoustics uses state-of-the art dye sublimation process to transfer an image onto fabric. Dye sublimation is a printing process that uses heat to transfer dye between the solid and gas states without going through a liquid stage.
Advantages of dye-sublimation over other methods of textile printing:
Images are permanent and do not peel or fade.
Dye does not build up on the fabric.
Colors are extraordinarily brilliant due to the bonding of the dye to the transparent fibers of the synthetic fabric.
Truly continuous tones can be achieved that are equivalent to photographs, without the use special techniques such as half-screen printing.
The image can be printed all over the entire item, with no difficulty in printing all the way to the edges.
You can provide your own art or select from thousands of choices at istockphoto.com or Shutterstock.  You can have larger panels or smaller panels. It's your choice all the way! We can even arrange for custom shipping if you need especially large panels.  Click HERE for our Ordering Guide.
 – employs ECOSE® technology absorption material and is manufactured with LEED certified Columbia Forest Products (made in the USA)

formaldehyde-free technology
With the GIK Acoustics ArtPanel, your options are unlimited.  There are no problems, only solutions!
If you're ready for a one-of-a-kind work of acoustic art, contact our Lead Customer Service Tech Christina Stone. She'll review your needs and provide a custom quote.
orders@gikacoustics.com
Phone: (404) 492-8364
Europe: +44 (0) 20 7558 8976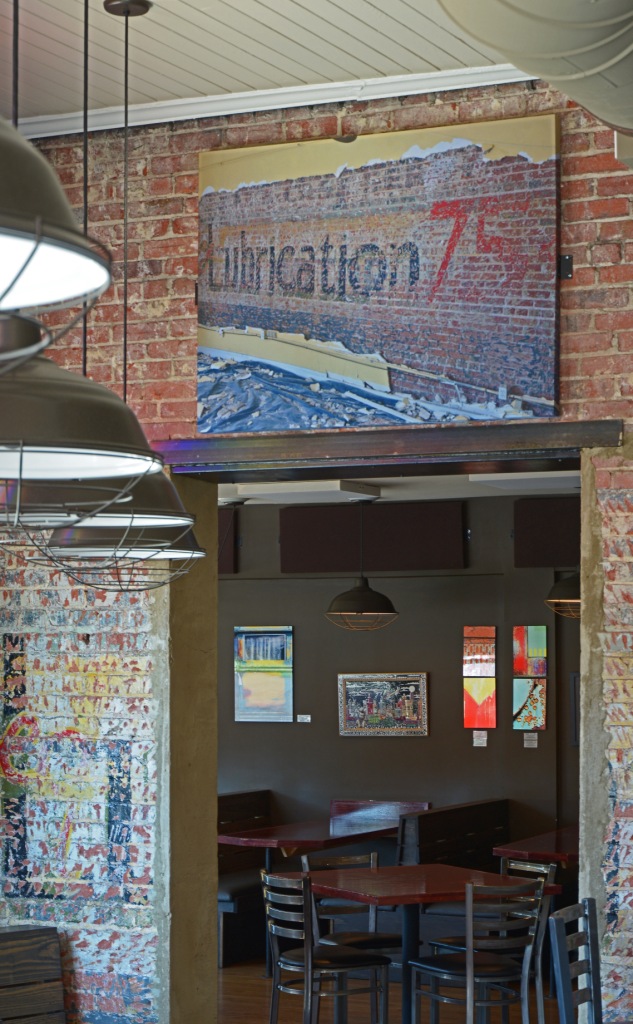 GIK Acoustics ArtPanel Product Video
Descriptions of size, image transfer process and construction are presented.
Room Acoustics, The Basics: Bass Traps, Acoustic Panels, Diffusion
This video explores the basics of room acoustics. Most of us use existing rooms such as bedrooms, living rooms or basements for a listening space versus high end recording studios that are designed with acoustics in mind. However there are ways to treat average-sized rooms to be utilized as control rooms, home theaters or two-channel listening rooms.
WANT TO ADD BUILT-IN SCATTERING / DIFFUSORS TO YOUR PANELS?
Broadband treatments offer great performance with an attractive price and when coupled with diffusion and scattering, can give your room a completely balanced sound throughout, without over-dampening high frequencies. The GIK Acoustics built-in
Scatter Plate
option allows even decay time from low to high frequencies while providing the necessary space for absorption to flatten the frequency response. Read more about the new GIK Acoustics
Scatter Plate here
. After speaking to our customer service reps to customize your ArtPanel, you can also elect to add the
Scatter Plate
built into your ArtPanel for only $49.00 per panel.
BOOM STAND BRACKETS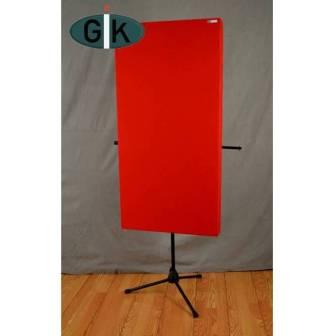 Instead of mounting the panel on the wall, we offer our Boom Stand Brackets. Installing these brackets on the panel allows it to attach to any boom stand turning your ArtPanel into a gobo or a portable vocal booth. For only $12 each you can add increased flexibility to our acoustic panels. (Boom stand not included.) Click here to add boom stand brackets to your order.
CUSTOM METAL STANDS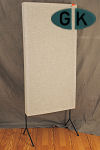 Another alternative that adds flexibility to the ArtPanels is our Custom Metal Stand. Our metal stands are modern, contemporary and powder coated for greater durability. Complete your GIK Acoustics order with our free standing custom metal stands. Looks great and provides flexibility! Click here to add custom metal stands to your order.
There's a difference between a GIK Acoustics product and all others on the market.  We separate ourselves from other acoustic treatment manufacturers in 6 primary areas.
QUALITY MATERIALS MEAN QUALITY PRODUCTS: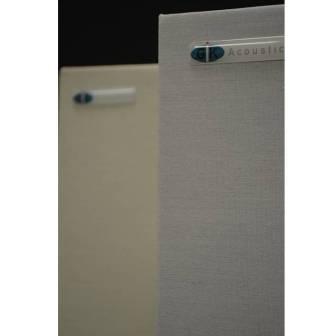 GIK Acoustics products are beyond simple do-it-yourself panels that are found on the market today. We start with only the highest-quality materials that will not sag or leak over time, then we build every panel by hand employing a unique two-frame system. Unlike other companies who use inexpensive materials, GIK Acoustics panels are crafted with
quality insulation material, fabrics and hardwood plywoods
.  We start with absorptive insulation material that is intended for room acoustics - not cheap mineral wool whose main purpose is to insulate a ship's engine room. We then use carefully selected hardwood plywoods - not cheap imports - to construct our frames.  The difference and chief advantage is
dimensional stability
.  Crossbanded layers and balanced construction mean that hardwood plywood won't shrink, swell or warp as much as lumber.  To finish our panels we offer an array of fine fabrics - from our standard 9 options to the full line of Guilford of Maine panel fabrics. Our team of professional builders
handcraft
each acoustic panel, bass trap and diffusor to exacting standards ensuring the most attractive, effective and dependable products.  The difference is our customers are secure in knowing they receive the very best made-to-order acoustic treatments available.
VALUE: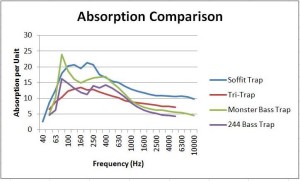 Dollar for dollar, GIK Acoustics' products absorb more sabins (sound) than any other product on the market. We provide our customers the most cost effective solution to make every space sound it's best.
GIK Acoustics Panels are tested and certified by the 
Riverbank Acoustical Laboratories
 (RAL)
 to provide the most accurate information on the results you can expect when you purchase our products. Our exceptional cost-to-benefit ratio
means our customers do not over-buy or over-treat a room to get results.
HELPFUL SUPPORT STAFF: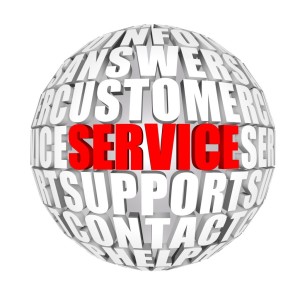 Customer satisfaction is our number one priority at GIK Acoustics. We start by helping customers determine the best products to treat their space with our free,
expert Acoustic Advice
.  Our well-respected design team has years of experience and are available to provide assistance not only with product selection but product placement within your room. In addition to providing knowledgeable recommendations, GIK Acoustics maintains contact throughout the order process. Our trained
Customer Service
team ensures quality, timely delivery and reliability.  And our staff is available to help with special needs or custom orders. The GIK Acoustics difference is we assist with everything from product inquiries to custom orders to delivery notifications to satisfaction follow ups.
We guarantee it
.
INFORMATIVE: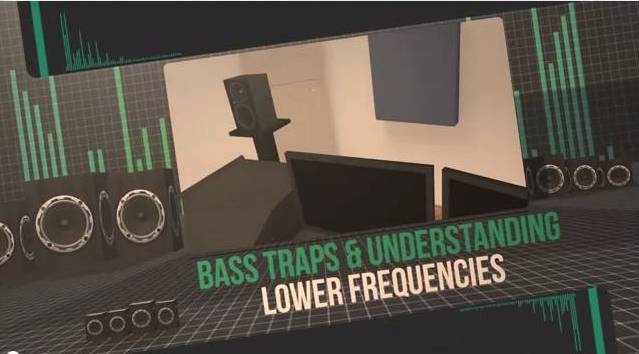 When it comes to improving the sound quality in a room, many find the science to be overwhelming and the task of DIY'ing acoustic treatments to be daunting. As part of our commitment to our customers, GIK Acoustics provides
Educational Articles
and
Videos
to demystify room acoustics. It's long been our goal to help customers truly understand how sound behaves in a space and the importance and benefits of proper room treatment.
INNOVATIVE: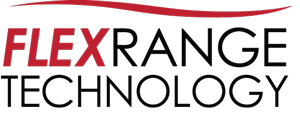 Over the past 10 years, GIK Acoustics has pioneered a number of acoustic treatments that you can't find anywhere else. From the
Tri-Trap Corner Bass Trap©
to our
Soffit Bass Trap©
to the built in
Scatter Plate
, GIK continues to innovate. After a year of research & development, we introduced
FlexRange Technology
- our unique, patent pending system for providing the best in bass trapping and low end absorption.
ENVIRONMENTAL:

It's our commitment to use environmentally safe materials for all our products.  We use ECOSE absorption material, eco-friendly wood and we offer customers recycled fabric options as well.
Greensafe
means GIK Acoustics products are friendlier on air quality, the environment, and your budget.
Our team is always happy to answer questions regarding margins, resolution, file size and photo selection.  Once you've decided to create your own GIK Acoustics ArtPanel, following is some helpful information.
SELECTING & SENDING ART:
1. You can provide us with YOUR artwork - a photo from your honeymoon, your kids at play or your favorite musical instrument - just be sure the file is 6" x 9" at 300 dpi and is a jpeg, gif, or tif file. 2. You can select artwork from many stock photo websites such as
shutterstock.com
,
istockphoto.com
,
dreamstime.com
or
123rf.com
.  There are thousands of images to select from.  GIK Acoustics can purchase your chosen image and charge to your order; or you can purchase art files from a stock photography website and send to us.  And don't worry, we would never reuse your artwork. 3. Contact our lead customer service rep, Christina Stone, at
christina.s@gikacoustics.com
or (404) 492-8364 to discuss file sizes and the best way to send your art to us.  We would hate to miss your order because email won't accept the file size. 4. GIK Acoustics will coordinate with our graphic artist and will send a proof to you for approval.  Once the proof is approved, it usually takes 5 - 7 business days to print & manufacture an ArtPanel.
MARGINS:
The artwork that you select will be printed large enough to not only cover the front of the panel, but the sides as well.  This is important to remember when choosing a design.  The fabric wraps around the frame of your ArtPanel, so roughly 4 - 6 inches on all sides will not be visible from the front. Unfortunately, our Graphic Artist cannot 'add' a border around your image nor can we 'stretch' the edges to conform to this requirement.  So anything key to the image should not be on the edges.
EXAMPLE OF POOR IMAGE CHOICE: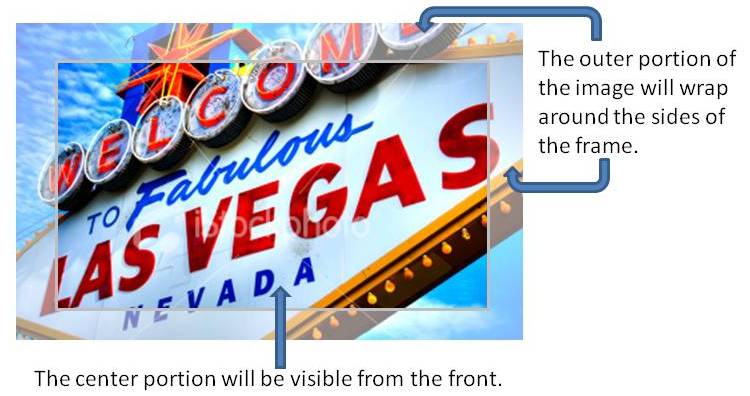 EXAMPLE OF GOOD IMAGE CHOICE: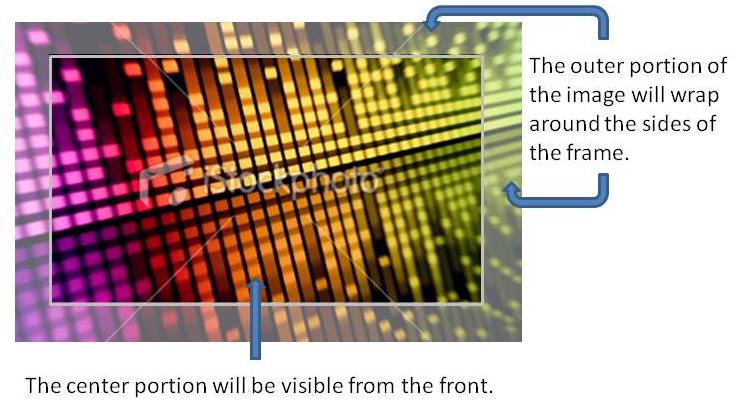 PROPORTIONS:
When selecting an image, take note of the orientation and proportions. ArtPanels are usually rectangular (24" x 48"), so a square image wouldn't fit on a rectangular frame.  We are always happy to customize a panel to fit your specific art, so contact us if you need a custom panel.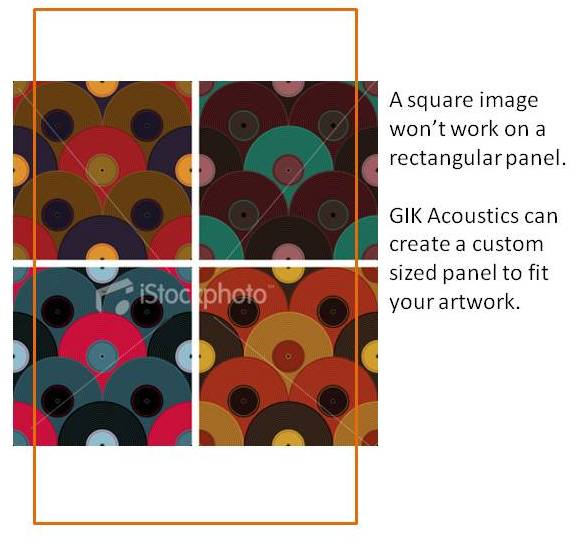 SPLITTING ART OVER MULTIPLE PANELS:
Often customers want an image divided over two or three panels.  We can work with our graphic artist to accommodate.  Contact our lead customer service rep, Christina Stone, at
christina.s@gikacoustics.com
or (404) 492-8364 to discuss.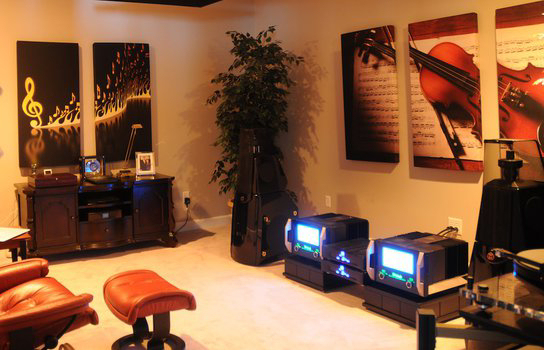 ---